E-Series Battery
SKU:

ESBATT1

UPC:

MPN:

Weight:

167.00 LBS

Shipping:

$149.00 (Fixed Shipping Cost)
Description
ePropulsion Launches New E-Series Line of Batteries
ePropulsion, a global leader and market challenger in marine electric propulsion systems and services, has announced its new range of E-Series batteries for 2023. With a more ergonomic design, the E60 and E163 will supplement the existing E80 and E175 batteries in the range providing consistent performance and smart operation, delivering up to 3,000 charging cycles for a reliable user experience.
ePropulsion's new E-Series Lithium Iron Phosphate batteries are high-performance and packed with features. With three times higher energy density and 70% less weight than lead-acid batteries, the E-Series is perfect for smaller vessels with minimal interior storage space. Connectors can be attached with only one hand – no additional tools are required for simple installation. IP67 waterproof rated, the E60 is designed for use with the ePropulsion Navy 3.0 Evo (6HP) and the E163 is designed for the Navy 6.0 Evo (9.9HP). Engineered for ease of use, their intelligent battery management system (BMS) features a display that shows state of charge, voltage, current and alarm information for maximum safety. The E60's compact form factor and light, double-layer plastic housing can easily be transported and installed by one person, while the E163 is designed for high reliability with an all-metal housing that is impact resistant and drop proof.

Danny Tao, CEO of ePropulsion said: "While capacity is an obvious focus of user-oriented innovation, making batteries easier to use is also vital to promoting adoption of electric propulsion. ePropulsion electric outboard engines combined with the new batteries are the perfect solution for boaters looking to embrace quiet, clean and environmentally conscious propulsion."
A key innovation of the ePropulsion product line is that all outboards are built on a 48-volt architecture, allowing for a greater degree of flexibility. ePropulsion E-Series batteries are designed to provide optimal performance for the entire range of ePropulsion electric motors.
The Features of the New E60 and E163 LiFePO4 Batteries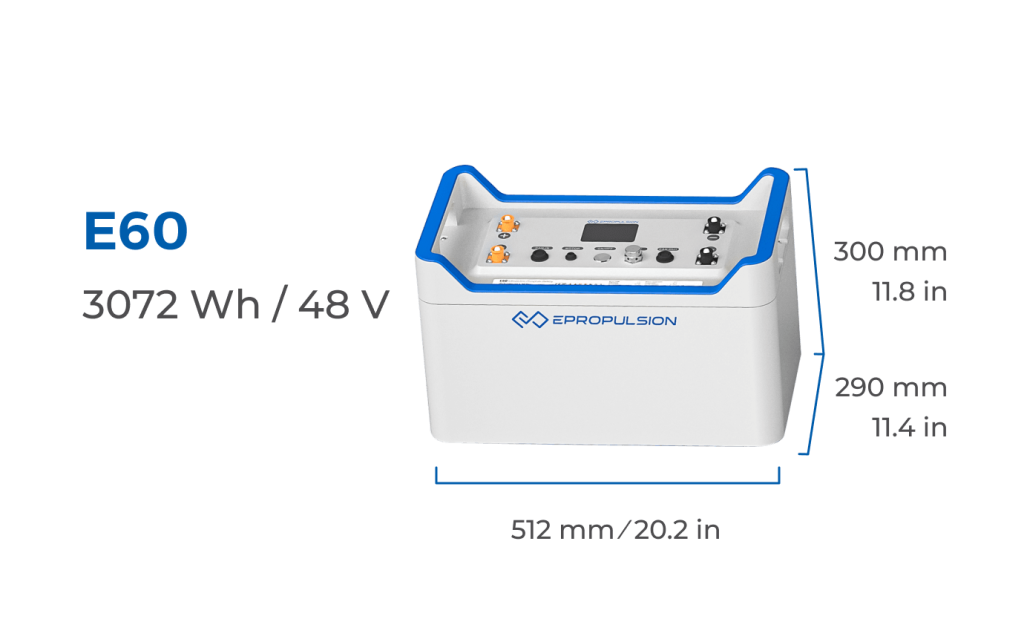 High Performance
E60 (single battery) can support Navy 3.0 Evo (6HP) full power output.
Flexible Installation
The height of E60 battery is only 300 mm, allowing flexible installation under the boat seat or other available spaces.
Lightweight
Features a new innovative double-layer plastic housing design weighing only 33 kg and can be safely lifted by a person.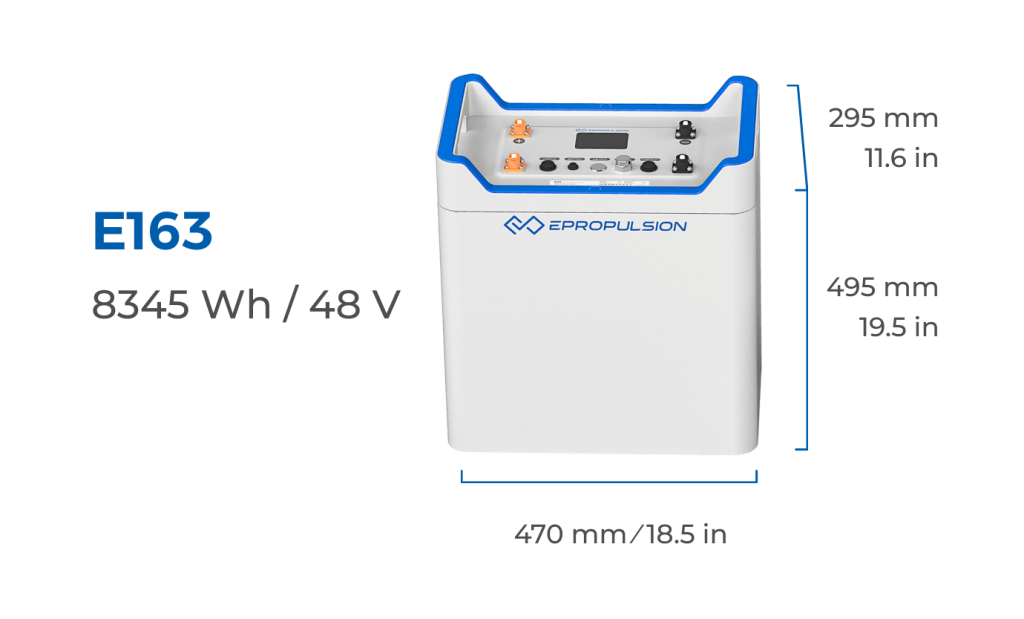 High Performance
E163 (single battery) can support Navy 6.0 Evo (9.9HP) full power output.
High Reliability
All-metal housing is more reliable, weather resistant, impact resistant and drop proof.
It's Time to Replace your Lead-Acid Battery with our LiFePO4 Battery
The chemistry of E-Series batteries is LiFePO4, which is 30% lighter but provides about 50% more usable capacity than AGM lead-acid batteries. In addition, LiFePO4 batteries have a longer life of up to 3000 cycles, while the AGM can only reach 300 to 500 cycles.
E163

512 x 290 x 300 mm

(20.2 x 11.4 x 11.8 in)

470 x 295 x 495 mm

(18.5 x 11.6 x 19.5 in)

Max Continuous Discharging Current

Charger
E-Series battery charger
E-Series battery charger
Charging Time (220V)
One charger: 2.7 Hrs
Two chargers in parallel: 1.3 Hrs
One charger: 7.2 Hrs
Two chargers in parallel: 3.6 Hrs
Charging Time (110V)
One charger: 4 Hrs
Two chargers in parallel: 2 Hrs
One charger: 11 Hrs
Two chargers in parallel: 5.4 Hrs
Charging Temperature
0 ~ 55℃ (32 ~ 131˚F)
0 ~ 55℃ (32 ~ 131˚F)
Discharging Temperature
-10 ~ 60℃ (14 ~ 140˚F)
-10 ~ 60℃ (14 ~ 140˚F)
Communication
Available: CAN-Bus for Parallel
RS485 for ePropulsion motors
Available: CAN-Bus for Parallel
RS485 for ePropulsion motors
Shipping Classification
UN3480, Class 9, UN38.3 Certified
UN3480, Class 9, UN38.3 Certified
Approvals
CE, UKCA, FCC
CE, UKCA, FCC
Warranty (Non-Commercial Use)
2 years
2 years
View All
Close